The 2022 Subaru Love Promise Community Commitment Award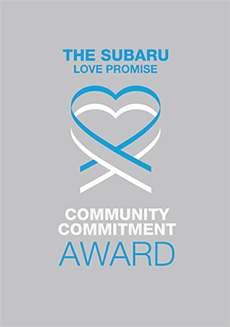 We've been nationally recognized for our dedication to our community and the Subaru Love Promise.
We're honored to receive the 2022 Subaru Love Promise Community Commitment Award. This award nationally recognizes Subaru retailers who are making the world a better place while demonstrating an outstanding commitment to supporting passions and causes in local communities. These efforts are focused in important areas such as the environment, community, health, education, and pets.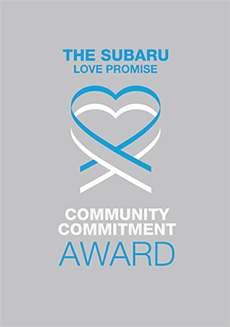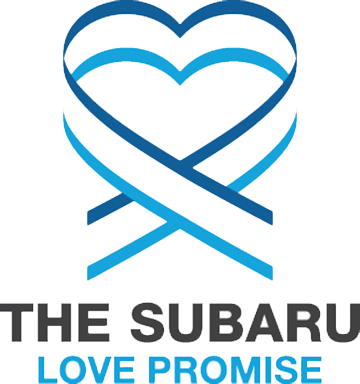 What is the Subaru Love Promise?
Subaru and our retailers believe in making the world a better place and the Subaru Love Promise is our vision of respecting all people. This is our commitment to show love and respect to our customers and to work to make a positive impact in the world.
How is Jenkins Subaru dedicated locally to the Love Promise?
Our Love Promise can be seen in various partnerships with local charities and non-profits. We're grateful for the opportunity, not only to be a part of our community, but to serve it as well.
Love Promise Stories from Jenkins Subaru
Subaru and Jenkins Subaru believe in making a positive impact on the communities in which we live and work. We uphold that belief through our Love Promise Community Commitment. Every month, we select inspiring stories from customers and partners from around our area who strive to support our collective commitment and feature them here
Jenkins Subaru, changing lives - Aimee C
The impact that Jenkins Subaru has provided our organization goes beyond monetary. The money raised through their Share the Love program, made it possible for Court Appointed Child Advocates (CASA) to train 100 new volunteers. They also made it possible for 400 children to receive trauma therapy. In 2021 alone, the number of children entering foster care in Harrison County alone reached record breaking numbers. Those children are bounced around and some have been lost within an overburdened system. However, thanks to our partnership with Jenkins Subaru, the amount of those being lost has been declining as they have CASA trained volunteers speaking for them in our court system. Consequently, with the number of children entering foster care skyrocketing, the need for access to trauma therapy has significantly increased. The Share the Love program has made it possible for those children to get the help needed to deal with the abrupt changes to their lives. Recently, Jenkins Subaru has donated their paid marketing to draw attention to our partner organizations like CASA, providing a platform to educate the community on how they too can get involved. Jenkins Subaru does so much more than just donate money, they're helping to change lives.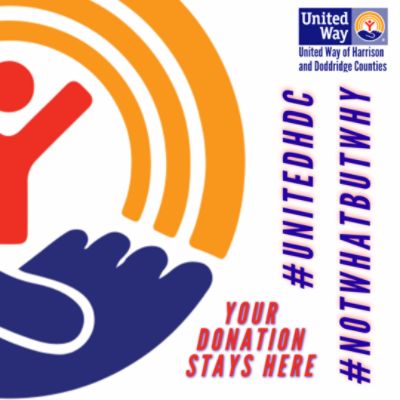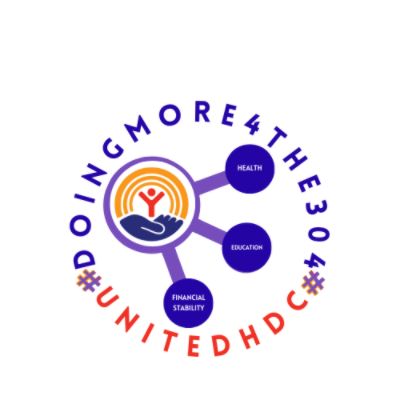 ---
Jenkins Subaru Donates $6,500 to Rock Cave Elementary School - Brian A
At a school assembly held on August 31, 2022, General Manager Matt Jenkins announced that every teacher at Rock Cave Elementary School, located in Upshur County, would be receiving $500 to spend on classroom supplies through the Subaru Loves Learning Partnership. This donation, totaling $6,500 will benefit the students, teachers, and overall community for many years to come. The kindness and generosity of Jenkins Subaru doesn't go unnoticed. Mr. Jenkins, in partnership with Rock Cave Elementary School Principal Brian Allman, planned a surprise school assembly at which this donation was announced. Teachers had no idea beforehand which made the surprise even more fun! This announcement was also a wonderful time to honor and thank teachers for the hard-work and dedication that they give to their students daily. Jenkins Subaru went above and beyond to provide assistance to our rural, Title I school in the heart of Appalachia. It isn't possible to express how grateful RCES is for this partnership. Thank you!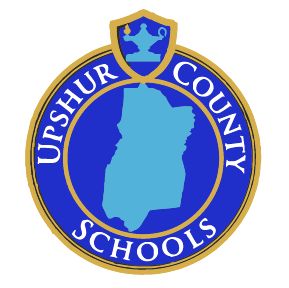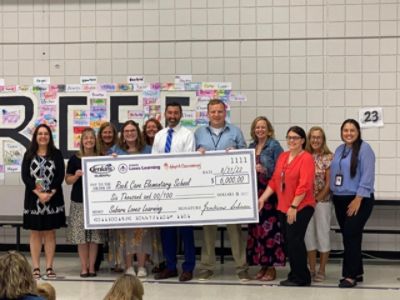 ---
United 4 All - Bradley R
As you already know, our local communities are still dealing with the ramifications of the pandemic and a long list of other social crises, but thanks to incredible supporters like Jenkins Subaru, we can continue to fight for our friends and neighbors no matter what obstacles we face. Jenkins Subaru has been a longtime partner with our United Way and for this we are forever grateful. As we reflect on all that has transpired this past year, we hope we can use our 2021 experiences to reimagine who we are, how we operate, and how we, as a positive guiding force in Harrison and Doddridge Counties, move forward. Now is the time for us to fight harder than ever -- just as our citizens, businesses, and communities must do. Thankfully, we have that ability. Since 1957 United Way and community leaders like Jenkins Subaru have fought some of the toughest battles and faced the most difficult challenges. We are encouraging everyone to look at this apocalyptic time as an opportunity to identify new and creative ways to serve those in the greatest need within our community, and United Way is a great place to start. Every penny (100%) of Jenkins Subaru's and your donation is reinvested in our community, supporting our friends, families, and neighbors. So thank you for buying Subaru! As you can imagine, our 18 United Way funded partners and the services they provide have been heavily utilized do to the increase in various human resource needs. Sadly, many agencies are reporting record breaking numbers when it comes to serving abused children, increased health care needs, and hungry seniors to name a few. Thousands of children, seniors, and low-income families need our help. Jenkins Subaru's support gives us the ability to drive positive community impact results. During our last campaign, over 17,000 meals were delivered to seniors unable to leave their homes, hundreds (500+) of abused and neglected children received the care they deserved, dozens of children benefited from equine therapy, local residents were able to obtain their GED at no cost, victims of domestic violence received the legal representation they deserved, and nearly 4,000 Harrison County residents had access to lifesaving primary healthcare; all because of the love and generosity of donors like Jenkins Subaru. While it sometimes can be difficult to stay optimistic, we can do so because I know our organization is surrounded by amazing, beautiful hearts like the Jenkins Subaru family who long to see our communities succeed. We wish you (and yours) wellness and hope the future brings you health, happiness, and prosperity.
---
Jenkins Subaru and Nutter Fort Intermediate - Hannah D
With the help of Jenkins Subaru, 6 Nutter Fort Intermediate teachers received $600. This money directly helps these teachers in the classroom to better educate students. The past 18 months have been difficult and this money really helps where it is needed!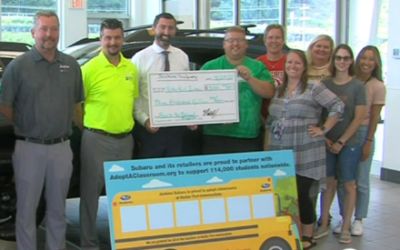 ---
Boxing it up for 5 years! - Hannah P
The year of celebration clearly includes Jenkins Subaru and Boxing It Up is about to celebrate 5 years of delivering on service and our promises. Our celebration sign is on the property of Jenkins Subaru in Bridgeport, WV. Delivering on service and promises are resonating themes as to how this dealership operate. Every business has a tall sign proudly displayed out front. However, the sign does not necessarily resonate the heart inside the doors! I am resonating the heart of Matt Jenkins for being one of the "first" to welcome student leaders in 2017 and every year thereafter! Yes a donation came today from Mr. Matt Jenkins. Clearly a family that cares and cares deeply for their communities! The rising food prices and struggles were not justification to ask an annual donor going through much change. I mistook their commitment to student leadership! The donations to support NVWV came! There are many businesses in NCWV, these two are part of the history of Boxing It Up! For your belief, I extend to you the heartfelt gratitude of a team trying our best to be servant leaders! Jenkins Subaru remain an anchor to Boxing It Up!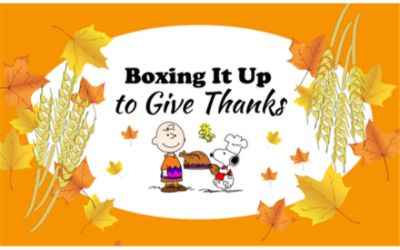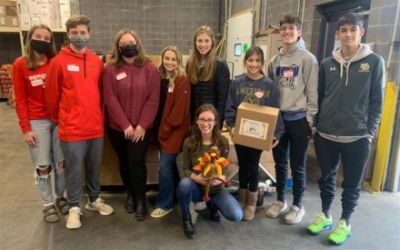 ---
Still Lots of Love to Give-Magnus - Jonna S
Magnus showed up as a stray and was picked up by our local Animal Control. He spent 10 days there and was not claimed, no one was looking for him. On August 5th he was brought to the Humane Society and went through our intake program where it was found that he had Lyme disease. The next day he was taken to see one of our local veterinarians. He was a very good boy for his exam, even though the doctor felt that he was very painful. The veterinarian felt that he had probably had the Lyme disease for some time and that it had started to affect his joints. From the exam the doctor felt that he was possibly only about 8 years old, but the Lyme disease was making him painful and caused him to not want to be very active at all. He was started on a pain reliever and anti inflammatory also a antibiotic to treat his Lyme. He also had a large mass on his hip that needed to be removed. Magnus went up for adoption and no one was interested, he spent every day in his kennel waiting for someone to notice him. Because of his sore joints, he laid in his bed most of the day. We feel that because of the Subaru event and that it makes more people actually look for an "underdog" this may be why he was adopted. His new mama called and specifically named him as the one for her. Magnus left our shelter on October 13th, after 2 1/2 months.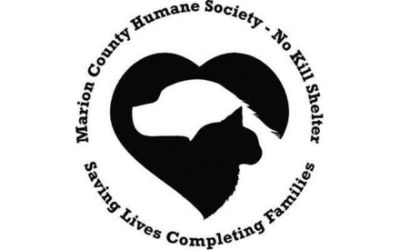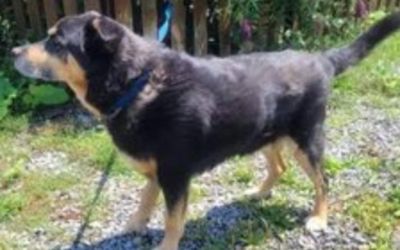 ---
JENKINS SUBARU SHARES THE LOVE & GIVES UNITEDHC! - Aimee C
The year 2020 will go down in infamy; however, thanks to the wonderful people who purchased a vehicle from Jenkins Subaru during their 'Share the Love' event, the burden was lightened a little on our most vulnerable neighbors in Harrison County. During the event, Jenkins Subaru not only provided their customers with quality vehicles, they also helped Health Access provide quality healthcare for over 3300 people through United Way. Through their partnership with United Way of Harrison County, Jenkins Subaru has assisted with furnishing over 284 children in foster care representation and lessening the trauma of 200 plus children who have suffered maltreatment. With the help of Jenkins Subaru, 481 families suffering from abuse and domestic violence received mental health as well as legal support. And, because of generous contributors like Jenkins Subaru, over 17,000 meals were served to our local homebound seniors through Bi-County Nutrition. We at United Way of Harrison County would like to thank those who invested in a vehicle during this years 'Share the Love' event you not only invested in a vehicle, you invested in your community. Many thanks to Jenkins Subaru for their support and kindness to our organization and our partners. We are blessed to have them as part of our United Way Family...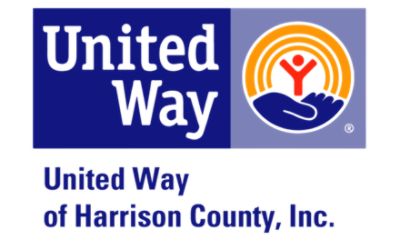 ---
What goes around ... - Emily P
I have had nothing but great care from Jenkins Subaru. I purchased my vehicle in 2017 and have never had a negative thought about the service or customer care that they give. They really do go above and beyond. What I did not realize is the support they give to our local animal shelter. I have adopted both of my dogs from the Harrison County Humane Society. Little did I know that we were all helping each other out in this community without actually knowing it. I will continue to support this business knowing what they also do for our local shelter. My daughter is 9 and has volunteered a few times and loves her pets. Great Job Jenkins Subaru!
---
Subaru supports small Shelter - frankie d
Jenkins Subaru has been a partner with the Humane Society of Harrison County for several years now. They have sponsored events, handled donation drives, donated toys, Keith McKenzie has gone above and beyond to not only promote our page, but also help supporters and staff to buy great vehicles from Jenkins Subaru. Matt Jenkins (as well as Andrew when he was there) have been wonderful to reach out to in order to help our shelter. They even donated a sign at our road to help better identify our shelter. I myself have a Subaru Impreza Wagon, and when I bought it there, it was set up to help me with transporting (with the plastic weather tech liners). I have saved NUMEROUS lives by having a dependable safe care to carry these furbabies to happy and healthy homes.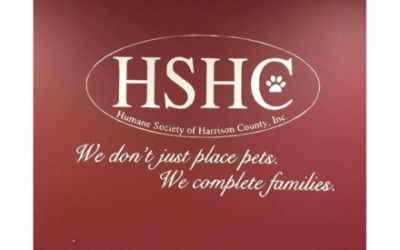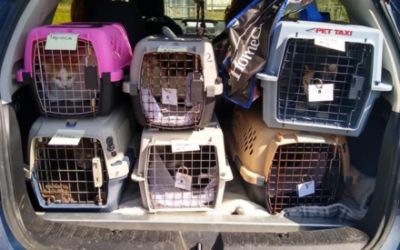 ---
Boxing It Up to Give Thanks and Jenkins Subaru! - Hannah P
Chronic hunger is not a single story. Rather, it plagues families, schools, and communities. Sometimes poverty fights a silent battle with people nearest to the heart. In 2017, Boxing It Up to Give Thanks was founded, a charity that fights food insecurity by delivering boxed Thanksgiving meals to the communities in need. Since our beginning, West Virginia student leaders have worked to change the face of food insecurity for families and united a community in service. Our presence in North Central West Virginia has provided for 18,000 individuals a meal and the opportunity to do what families do best around the holidays: make memories! Throughout the WV scenic landscapes and among its communities, food insecurity exists. To raise awareness of hunger on the community level, Boxing It Up was initiated to provide a complete Thanksgiving meal for families in need and to support the pantry of volunteers. The vision was to eliminate food insecurity for one day, leaving more time for families to simply make memories. It was equally founded to serve as an outlet to mentor students on their service journeys as they explore their passion and purpose within the realms of leadership and service. Amid the COVID-19 pandemic, Boxing It Up continues to make a difference! During 2020, the committee of dedicated student leaders accomplished the following: - Delivered 1,000 complete Thanksgiving meals (inclusive of a turkey), feeding a family of 6 for $24 per box. (Nearly $32,000 raised!) - United numerous WV high schools and college campuses to advocate for food security. - Distributed 20,000 pounds of Thanksgiving food to 16 pantries across 6 WV counties. - Led guest speaker panels on Boxing It Up at Key Club's International Leadership Conference and District Conventions. - The Newest Excitement: Published a children's book titled "Mella's Box" to mentor youth about food insecurity and community service. Boxing It Up has a goal to disperse copies of Mella's Box throughout each public library and elementary school across the state. The next vision propelling the mission forward is the development of a high school reading program in conjunction with Key Clubbers who will mentor elementary school students about hunger. With a vision, a voice, and four years of determination, overall, Boxing It Up has raised approximately $90,000, distributed 61,000 pounds of food, and provided nearly 18,000 individuals within 34 food pantries across 7 counties a meal after this Thanksgiving year. Equally important, it instilled leadership into the minds of students and changed the face of food insecurity in my wild and wonderful state of West Virginia. Along the journey, there were hundreds of businesses and devoted community leaders that made this a reality. One integral and consistent donor was Jenkins Subaru in Bridgeport, WV. Their team has been a reminder of the power of community, the importance of a devotion to service, and a supporter of student leadership since day 1. I remember walking in the first time and being met by the owner Mr. Matt Jenkins. It is with great pleasure that I submit this story and celebrate one of the many branches of Subaru leading the community in making a difference! To learn more about the campaign, please visit our Facebook page (@boxingitup). Here to view the 2019 campaign video highlighting the students and all they helped to achieve! https://www.youtube.com/watch?v=T4Kv8069Ceo. The 2020 campaign video can be viewed through this link as well: https://www.youtube.com/watchv=Oq2IWq695hs&feature=youtu.be Thank you to you and your company for being a part of the change in NCWV food insecurity!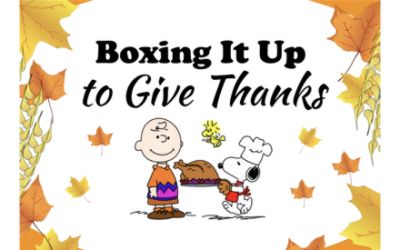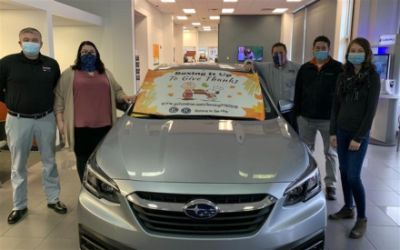 ---