The 2021 Subaru Love Promise Community Commitment Award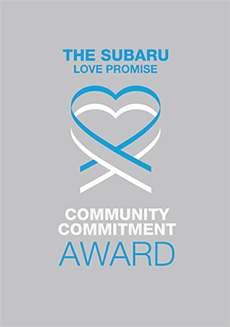 We've been nationally recognized for our dedication to our community and the Subaru Love Promise.
We're honored to receive the 2021 Subaru Love Promise Community Commitment Award. This award nationally recognizes Subaru retailers who are making the world a better place while demonstrating an outstanding commitment to supporting passions and causes in local communities. These efforts are focused in important areas such as the environment, community, health, education, and pets.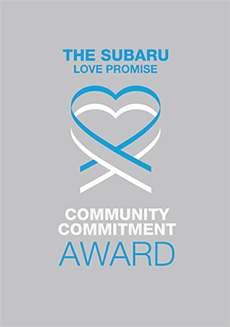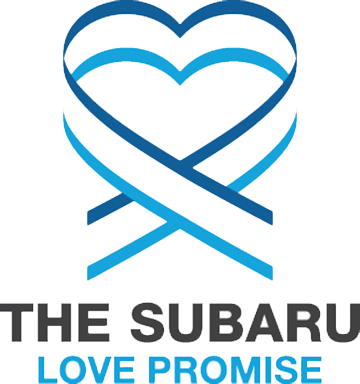 What is the Subaru Love Promise?
Subaru and our retailers believe in making the world a better place and the Subaru Love Promise is our vision of respecting all people. This is our commitment to show love and respect to our customers and to work to make a positive impact in the world.
How is Jenkins Subaru dedicated locally to the Love Promise?
Our Love Promise can be seen in various partnerships with local charities and non-profits. We're grateful for the opportunity, not only to be a part of our community, but to serve it as well.
Love Promise Stories from Jenkins Subaru
Subaru and Jenkins Subaru believe in making a positive impact on the communities in which we live and work. We uphold that belief through our Love Promise Community Commitment. Every month, we select inspiring stories from customers and partners from around our area who strive to support our collective commitment and feature them here
JENKINS SUBARU SHARES THE LOVE & GIVES UNITEDHC! - Aimee C
The year 2020 will go down in infamy; however, thanks to the wonderful people who purchased a vehicle from Jenkins Subaru during their 'Share the Love' event, the burden was lightened a little on our most vulnerable neighbors in Harrison County. During the event, Jenkins Subaru not only provided their customers with quality vehicles, they also helped Health Access provide quality healthcare for over 3300 people through United Way. Through their partnership with United Way of Harrison County, Jenkins Subaru has assisted with furnishing over 284 children in foster care representation and lessening the trauma of 200 plus children who have suffered maltreatment. With the help of Jenkins Subaru, 481 families suffering from abuse and domestic violence received mental health as well as legal support. And, because of generous contributors like Jenkins Subaru, over 17,000 meals were served to our local homebound seniors through Bi-County Nutrition. We at United Way of Harrison County would like to thank those who invested in a vehicle during this years 'Share the Love' event you not only invested in a vehicle, you invested in your community. Many thanks to Jenkins Subaru for their support and kindness to our organization and our partners. We are blessed to have them as part of our United Way Family...
---
What goes around ... - Emily P
I have had nothing but great care from Jenkins Subaru. I purchased my vehicle in 2017 and have never had a negative thought about the service or customer care that they give. They really do go above and beyond. What I did not realize is the support they give to our local animal shelter. I have adopted both of my dogs from the Harrison County Humane Society. Little did I know that we were all helping each other out in this community without actually knowing it. I will continue to support this business knowing what they also do for our local shelter. My daughter is 9 and has volunteered a few times and loves her pets. Great Job Jenkins Subaru!
---
Subaru supports small Shelter - frankie d
Jenkins Subaru has been a partner with the Humane Society of Harrison County for several years now. They have sponsored events, handled donation drives, donated toys, Keith McKenzie has gone above and beyond to not only promote our page, but also help supporters and staff to buy great vehicles from Jenkins Subaru. Matt Jenkins (as well as Andrew when he was there) have been wonderful to reach out to in order to help our shelter. They even donated a sign at our road to help better identify our shelter. I myself have a Subaru Impreza Wagon, and when I bought it there, it was set up to help me with transporting (with the plastic weather tech liners). I have saved NUMEROUS lives by having a dependable safe care to carry these furbabies to happy and healthy homes.
---
Boxing It Up to Give Thanks and Jenkins Subaru! - Hannah P
Chronic hunger is not a single story. Rather, it plagues families, schools, and communities. Sometimes poverty fights a silent battle with people nearest to the heart. In 2017, Boxing It Up to Give Thanks was founded, a charity that fights food insecurity by delivering boxed Thanksgiving meals to the communities in need. Since our beginning, West Virginia student leaders have worked to change the face of food insecurity for families and united a community in service. Our presence in North Central West Virginia has provided for 18,000 individuals a meal and the opportunity to do what families do best around the holidays: make memories! Throughout the WV scenic landscapes and among its communities, food insecurity exists. To raise awareness of hunger on the community level, Boxing It Up was initiated to provide a complete Thanksgiving meal for families in need and to support the pantry of volunteers. The vision was to eliminate food insecurity for one day, leaving more time for families to simply make memories. It was equally founded to serve as an outlet to mentor students on their service journeys as they explore their passion and purpose within the realms of leadership and service. Amid the COVID-19 pandemic, Boxing It Up continues to make a difference! During 2020, the committee of dedicated student leaders accomplished the following: - Delivered 1,000 complete Thanksgiving meals (inclusive of a turkey), feeding a family of 6 for $24 per box. (Nearly $32,000 raised!) - United numerous WV high schools and college campuses to advocate for food security. - Distributed 20,000 pounds of Thanksgiving food to 16 pantries across 6 WV counties. - Led guest speaker panels on Boxing It Up at Key Club's International Leadership Conference and District Conventions. - The Newest Excitement: Published a children's book titled "Mella's Box" to mentor youth about food insecurity and community service. Boxing It Up has a goal to disperse copies of Mella's Box throughout each public library and elementary school across the state. The next vision propelling the mission forward is the development of a high school reading program in conjunction with Key Clubbers who will mentor elementary school students about hunger. With a vision, a voice, and four years of determination, overall, Boxing It Up has raised approximately $90,000, distributed 61,000 pounds of food, and provided nearly 18,000 individuals within 34 food pantries across 7 counties a meal after this Thanksgiving year. Equally important, it instilled leadership into the minds of students and changed the face of food insecurity in my wild and wonderful state of West Virginia. Along the journey, there were hundreds of businesses and devoted community leaders that made this a reality. One integral and consistent donor was Jenkins Subaru in Bridgeport, WV. Their team has been a reminder of the power of community, the importance of a devotion to service, and a supporter of student leadership since day 1. I remember walking in the first time and being met by the owner Mr. Matt Jenkins. It is with great pleasure that I submit this story and celebrate one of the many branches of Subaru leading the community in making a difference! To learn more about the campaign, please visit our Facebook page (@boxingitup). Here to view the 2019 campaign video highlighting the students and all they helped to achieve! https://www.youtube.com/watch?v=T4Kv8069Ceo. The 2020 campaign video can be viewed through this link as well: https://www.youtube.com/watchv=Oq2IWq695hs&feature=youtu.be Thank you to you and your company for being a part of the change in NCWV food insecurity!
---
Jenkins Subaru Takes Part In TerraCycle - Trina R
In roughly two months, the world will be celebrating Earth Day with messages of reduce, reuse, recycle. One local company, however, lives that slogan year-round. Jenkins Subaru, located on Lodgeville Road in Bridgeport, is part of the Subaru TerraCycle partnership program. The initiative was launched last year with a goal of recycling one million pieces of waste through the automaker's ongoing Subaru Loves the Earth recycling program. Known for being environmentally conscious and geared toward those who love the great outdoors, Subaru now has nearly 600 participating Subaru retailers participating, including Jenkins. As a drop-off location, Jenkins accepts items such as plastic cups, straws, lids and creamer capsules. Even the collection bins are recycled. Collections are then used to build park benches, playground equipment and more. "We look forward to the new green initiatives Subaru will offer in the coming years and we love how this program creates products that improve communities around the nation," said Marketing Director Aaron Kittle. "Subaru is a leader in green auto factories and we are happy to promote these initiatives." Community members are encouraged to start recycling drives in their homes and offices and contribute to the bins at Jenkins Subaru. The products made from the recycled waste is then donated to local communities such as Bridgeport. Collection points also include REI stores and other partners of Subaru that promote conservation and environmental causes. April is Subaru Loves the Earth Month at Jenkins Subaru, where additional promotions encouraging recycling and reducing waste will be introduced. For additional information about the recycling program, visit Jenkins Subaru.
---
Jenkins Donates $25,000 to Stockert Youth Center - Callie C
Jenkins Automotive Gives $25,000 to Stockert Youth & Community Center for Facility Expansion July 30, 2019 BUCKHANNON, WV Another member of the Buckhannon community has stepped up to bat for Stockert Youth & Community Center! Today, Jenkins Ford and Jenkins Subaru-Hyundai, collectively Jenkins Automotive, donated $25,000 toward the facility's expansion so that it may better serve area youth through access to healthy recreation, educational and arts opportunities, and nutritional services. Regarding their contribution, Jenkins Automotive president John Jenkins remarked, "The city of Buckhannon has been near and dear to my family and me for decades. Our family and business were built here. I have high hopes for our children in Upshur County–they are our future. The kids in our community are at the heart of our gift to the Stockert Youth & Community Center, which is such a valuable asset for improving children's lives in our area." Mayor McCauley shared that, "John Jenkins and I have been friends since he arrived in Buckhannon more than 30 years ago. His great success in business was just as predictable as his gracious spirit of giving back to his community. This Jenkins family gift is the largest, private gift ever received by our City, and everyone associated with Stockert and our many youth programs are thrilled to add the Jenkins name to our growing list of substantial donors who are invested in realizing our new multi-use building at SYCC." The City of Buckhannon and Stockert Youth & Community Center remain grateful for all donations toward the new complex, including substantial gifts from the Minsker Family, Mike Ross, and Tim Critchfield and pledges from Buckhannon Rotary and the Thomas family. Located on East Main Street in downtown Buckhannon, Stockert Youth & Community Center is conveniently located on the Elizabeth J. "Binky" Poundstone Trail System and is just a block away from the Colonial Theatre, which serves as the performing arts venue for Stockert. The center is also adjacent to Jawbone Park and the Public Safety Complex. Stockert Youth & Community Center provides homework help and tutoring services for children in the afterschool program. The center also hosts Camp Buccaneer, a fun and educational summer camp serving approximately 100 Upshur County youth each year from June until school starts again in August. Both the afterschool and summer camp programs provide a snack and/or meal for participating youth, filling a critical need in an area where food insecurity is a real concern for some families. On average, 13,000 youth hours are realized every month at Stockert. The expansion will allow Stockert Youth & Community Center to serve more area youth in the afterschool and summer programs, as they currently are limited by the building capacity limit. In addition, the new space will allow for an indoor walking track, additional gym space for the highly successful basketball program and other sports, as well as an area for additional events and fitness classes.
---
Johnson Elementary School Receives Book Donation - Marylou S
BRIDGEPORT, WV – The newly-constructed Johnson Elementary School in Bridgeport was paired with Jenkins Subaru as Subaru Loves Learning partner in August 2018. The partnership provided 10 boxes of brand new books to classrooms and the school library. Johnson Elementary's Library Media Specialist, Marylou Smith said of the partnership, "We are thrilled to be partnering with Jenkins Subaru again this year for the Subaru Loves Learning initiative. Our students love to read, and the titles we were able to choose will be enriching and fun. We look forward to working with Jenkins again in the future." Jenkins Subaru general manager Matt Jenkins said, "We truly value the schools in our community and giving back in the form of educational materials through the Subaru Loves Learning event is a great way to show our gratitude and support the children of Harrison County in the classroom." About Johnson Elementary – Johnson Elementary was built in the 1950s. The main structure was situated on a campus that includes Bridgeport High School and Bridgeport Middle School. It was also named a 2011 West Virginia Exemplary School. This original structure has been torn down and a new Johnson Elementary was opened across the parking lot in August 2018. Pictured is Library Media Specialist Marylou Smith taking delivery of the books alongside the 2019 Subaru Ascent.
---
UHC Receives Donation from Jenkins Subaru - Matthew C
Bridgeport, WV—June 2018 marked Subaru Loves to Care month, Jenkins Subaru in Bridgeport partnered with the Leukemia and Lymphoma Society (LLS) to bring warmth to cancer survivors being treated at United Hospital Center (UHC). Through their generosity, 80 blankets and totes were donated locally. Those who have visited the Subaru retailer were able to show their support by providing personalized messages of love and hope to be delivered alongside the blankets and craft kits. In order to continue to spread awareness about the Subaru Love to Care cause, those who wrote the messages received an awareness bracelet. "This kind gesture makes a huge difference and warms the hearts of our patients, as well as puts a smile on their faces during the most trying of times," said Gretchen Hennigan, RN, clinical navigator at UHC Cancer Center. "I want to personally thank Jenkins Subaru and LLS for conveying such care and hope to those who need it most." Subaru retailers and the LLS joined together to deliver 38,000 blankets through the Subaru Loves to Care initiative for cancer survivors across the country. Jenkins Subaru is West Virginia's largest volume Subaru dealer and is located at 750 Lodgeville Rd, in Bridgeport. "Jenkins Subaru and Subaru of America are happy to have made this gift possible. UHC and its staff are highly valued assets to the community and state, and we have enjoyed working with them once again to spread our message of care and love to the cancer survivors of the region," said Aaron Kittle, marketing director at Jenkins Subaru. About United Hospital Center United Hospital Center is the result of a merger between St. Mary's and Union Protestant hospitals in 1970. This bold move provides north central West Virginia with a regional community hospital that offers a vast array of services. The new UHC opened in 2010 and is located along I-79 in Bridgeport. The 692,000 square foot structure rises eight stories. It is designed around the environment with the patient, family, staff, and community in mind—which includes enhanced patient privacy, a high level of technology integration, and improved access to care. The acute care facility has 292 private inpatient rooms and a medical staff that consist of more than 140 primary care and specialty physicians. UHC employs more than 2,000 Associates and is a member of WVU Medicine (West Virginia University Health System). For more information about United Hospital Center, please visit uhcwv.org.
---
On the road again - Jessica W
A local term is "up the holler". People live up the "holler" their whole lives. They work the land and build their homes and spend their lives there. They also age there. The story of folks here that have spent there decades being independent living up the holler, who now have their 30 year old truck or sedan parked in the barn is so very common. With our Meals on Wheels Subaru we have been able to provide meals to these folks who have worked so hard for so long. We are able to go over the mountains, down the valley, and up the hollers.
---
Tucker County Hero - Jessica W
We knew that the addition of a highly capable Subaru Outback would make a difference, but had no idea just how much. Fondly known as Shelly (aka -Shelia - because she'll a get you there and back safely regardless of the mountain terrain), "she" has quickly become a local hero in Tucker County. We have many extremely rural roads - some of which are not paved or even leftover from logging 100 years ago. Shelly has been up, down, over and under these roads already. A touching moment from staffer Jessica Wamsley: "As I pulled up to deliver meals and emergency water to a very sweet lady living along the Black Fork River, she cried and so did I because getting there is the battle and with 'Shelly' I got there. She has running well water that is contaminated with lead and cannot afford to replace the filters and fittings she needs to so cooking or even making coffee with it is out of the question. She can't get around as well as she once did and you can tell that bothers her more than anything. She took one look at that Subaru and said 'Oh my gosh, no one ever wants to drive down this hollow to get to me for all the mud and steep roads! You can probably go just about anywhere in that thing!' I just smiled and nodded, thinking, 'You are so very right.' This car has made it easier to reach some of these people in the most critical need. Working with Meals on Wheels already gives you so many moments that take your breath away. Now I feel safe getting to these folks!"
---
UHC Cancer Patients Touched by Jenkins' Support - Breanna S
Jenkins Subaru partnered with United Hospital Center to distribute Subaru Loves to Care blankets, craft kits, and messages of hope to local cancer patients undergoing treatment. "This kind gesture makes a huge difference and warms the hearts of our patients, as well as puts a smile on their faces during the most trying of times," said Gretchen Hennigan, RN, clinical navigator at UHC Cancer Center. "I want to personally thank Jenkins Subaru and LLS for conveying such care and hope to those who need it most." The 80 blankets and 10 arts and crafts kits were delivered on June 26 as part of Subaru's national "Loves to Care" month. Aaron Kittle, marketing director at Jenkins Subaru, said, "Jenkins Subaru and Subaru of America are happy to have made this gift possible. UHC and its staff are highly valued assets to the community and state, and we have enjoyed working with them once again to spread our message of care and love to the cancer survivors of the region." Pictured (L-R): Trey Scalise, finance manager at Jenkins Subaru; Aaron Kittle, marketing director at Jenkins Subaru; and Gretchen Hennigan, RN, clinical navigator at the Cecil B. Highland, Jr. & Barbara B. Highland Cancer Center at UHC.
---
Subaru and NWF Loves the Earth - Julie M
Our garden is coming along nicely. We appreciate Subaru and NWF for their support and considering Big Elm Elementary School.
---
Flood Relief Efforts in West Virginia - Margaret O
Beckley, WV April 6th, 2017 Subaru Share the Love Event Raises over $51,000 for United Way's. During this 9th year of Subaru's Share the Love Event, all eight West Virginia Subaru retailers went above and beyond by selecting United Way as their hometown charity to support flood relief efforts in central and southern West Virginia. As the Share the Love hometown charity, customers at Jenkins Subaru had the option to select the United Way to receive the $250 donation when they purchased or leased a new Subaru in November and December. These donations were then matched by Jenkins Subaru. United Way of Central WV, United Way of Greenbrier Valley and United Way of Southern WV were very thankful for these Subaru retailers and their joint effort to raise funds for people most affected by the June 2016 flood. The check presentation was made at United Way of Southern West Virginia by Subaru retailers from Cole Subaru, Jenkins Subaru and Hometown Subaru.
---
Subaru Loves the Earth - E-Waste Event - Danielle S
We would like to thank our customers for participating in our E Waste Recycling event during the month of April. With your help, we were able to prevent 2,466 lbs of carbon emissions from polluting the atmosphere. This is equivalent to saving 95 trees, 420 gallons of gasoline, 3,575 plastic bottles, and 16,444 aluminum cans. Thank you for helping strengthen the Subaru Love Promise!
---
JENKINS SUBARU Supports the UNITED WAY OF HARRISON COUNTY - Marie B
Bridgeport, WV, April 3, 2015 "Subaru of America, Inc. (SOA) and Jenkins Subaru today presented a check for $5,440.00 to the United Way of Harrison County. The United Way of Harrison County was a beneficiary in the 2014 Subaru "Share the Love" event. From Nov. 20, 2014 to Jan. 2, 2015, customers who purchased or leased a new Subaru vehicle could select from a list of charities to receive a donation of $250 from SOA. This year, Subaru of America, Inc. will donate $15 million to participating charities. Over the last seven years, SOA has donated $50 million to a number of worthy causes through the "Share the Love" event. SOA selected the four national charities: ASPCA, Make-A-Wish, Meals On Wheels Association of America and National Park Foundation. Subaru retailers could also elect to add a local charity and Jenkins Subaru selected United Way of Harrison County as its "hometown charity." The check for $5,440.00 was presented to (L to R) Greg Hefner and James Swiger of United Way of Harrison County by Matthew Jenkins, general manager, many Jenkins Subaru staff, and SOA district sales manager Andrew Raszewski.
---
April 1-30, 2015 E-Waste Recycling Event - Molly M
Throughout the month of April, we are hosting an E-Waste Recycling Event in our store to collect unwanted electronics. We've arranged to work with a company who will responsibly collect, re-purpose, and recycle your electronic waste. Help us protect our environment. Just show up with your E-Waste and we'll do the rest! The first 50 customers who contribute will receive a complimentary environmental badge of ownership. We will accept: LCD Monitors, Cell Phones, Laptops, Tablets, CRTs up to 40 inches, Video Games/Consoles, Fax Machines, DVD/VCR Players, Printers, Computer Peripherals, Switches/Routers, Cords and Wires.
---