Bad Or No Credit Loan & Lease Options
We know that your credit score is responsible for a lot, but we don't think it should hinder your efforts of finding a new or used car, which is why we don't allow it to. At Jenkins Subaru we believe that everyone deserves a fair shot at the perfect vehicle, and whether you're interested in a Subaru Forester, Outback, Legacy, Impreza, or BRZ, don't let your bad credit, or lack of credit, impact your search.
When you visit our dealership, our financing team will be ready to walk you through the process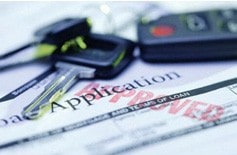 of finding a lease or loan that aligns with your current situation. When you have concerns, there's no better way to deal with them than by talking through it and with our experience, you will come out ahead. We understand that it is so easy for your credit score to take a hit, and rebuilding it is as slow as molasses, which is why we believe you shouldn't continue to be punished for bad credit, or for having no credit history to begin with.

How are we able to 'take a chance' on a customer who has less than ideal credit? We have built a relationship with local lenders to improve your chances finding a lease or loan that is right for you, and we believe that your credit score does not define who you are, therefore, it shouldn't hold you back.
Whether you are new to the credit world, or have doubts about your eligibility for a loan or lease, don't hesitate to contact us today to see what we can do for you. Owning a car is about more than transportation; it's about the independence of Bridgeport, Clarksburg, and Fairmont drivers. Let us help you get on the road to owning the right vehicle and we will show you how easy it can be to obtain a lease or loan despite past credit history, and see how it feels to make positive steps toward repairing your score.